Taking the Hard Road - Making a Freecycling App from Scratch
Tags: ICT | EAUCConf17 | App
Downloads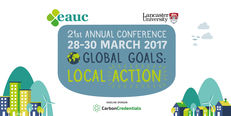 This workshop presentation is from the "Global Goals: Local Action" EAUC Annual Conference 2017, presented by Paul Crossley, Sustainability Projects Lead - London South Bank University. James Whittingham, Sustainability Manager - London South Bank University. Nav Dhuti, LSBU Student and Developer of the Elephant App - London South Bank University and fell under the Planet - Resources stream. To find more presentations and resources from this Conference, search for EAUCConf17.
Everyone wants an app, but how many succeed? What's the difference between a mobile optimised webpage and an app?
Apps can drive engagement and help deliver estates and facilities objectives – but how do you go about it? And do you really know what you are letting yourself in for?
A student from London South Bank University approached the Sustainability Team with an idea for a freecycling app – this session took participants through the highs and lows of that story.