Downloads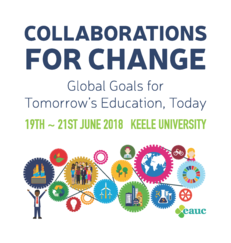 Founded at last year's EAUC conference, the SDG Accord is now endorsed globally by most of the world's universities, colleges and student sustainability networks. This international session is an update on the Accord's progress and how signatories are benefiting from it. It is also a chance for you to give feedback on it and tell us what else would help you on your SDG journey.
We will present to you our collated findings from the reporting that signatories will have undertaken. There will be the provision of practical tips on how to sell the SDG Accord to the board, some best practice examples of how to engage students and staff with it, and guidance on how to start mapping SDGs. We will also talk more about the UN High Level Political Forum that we will be presenting our findings at in July and why it is important that we do this.
To find more presentations and resources from this Conference, search for EAUCConf18.