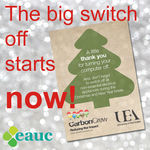 Like staff engagement, there are some key ways to engage with students at Christmas to achieve many of your sustainability objectives. As it is the season of excess, it is easy to promote the many tangible and simple ways to apply sustainability principles. Christmas really doesn't have to be a burden on the environment. With a little effort and imagination, we can reduce the environmental impact of the holiday season.
The shutdown over Christmas is a key message to demonstrate the importance of reducing waste and energy, encourage recycling and buying ethically and so on. Are you planning a student campaign to make sure your they have a sustainable Christmas? There's still plenty of time to send out some messages to your Green Impact teams, add to the intranet and disseminate via your social media channels.
We've collected together some great Member examples to inspire you!
University of Leeds shut down tips - Things to think about during the Christmas shutdown
University of Greenwich - Tips for at home including food, gifts and decorations and also switch off tips for non essential equipment on campus
King's College London - Staff and student tips for a sustainable Christmas
Glasgow University - Lots of tips and links to resources for a sustainable Christmas
Sheffield University - This Christmas, it's lights out for the Faculty of Engineering's Big Christmas Switch Off!
You'll also find some examples of posters, images and emails which can be used to promote a sustainable Christmas. These were collected from a recent call out on the Educational Members' Network. Thanks to everyone who shared their materials!
What are you doing to encourage students to think sustainably this Christmas?
> Check out more resources on 'Student Engagement' on the Sustainability Exchange.