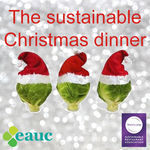 Thinking about your suppliers and what you're purchasing at Christmas is one of the most significant ways to stay sustainable as it's weaved into everything during the festive period. As we've covered many of the other elements in this framework in other days, today we're going to think specifically about food.
Everyone loves Christmas dinner, and with the big day fast approaching it's time to start planning your festive menu. Environmentally, this meal can be one of the least resource efficient occasions of the year.
To help you have a sustainable festive season, the Sustainable Restaurant Association (SRA) has created a guide to point you in the right direction when sourcing your menu items. From wine and canapés to good old sprouts they've got it covered.
Did you know, UK festive shoppers are predicted to spend £19bn on food and drink over the Christmas and New Year period. With much of this revenue finding its way back to the farmers, it's your chance to make purchases that have a positive impact on the environment and animal welfare.
Download the guide which gives you things to look out for when buying wine, salmon, turkey and vegetables, logos to find, useful websites, and also how to manage waste once it's all over.
They have also collected together some other tips that are useful for this time of year.
What are you doing to make your Christmas dinner sustainable?
> Check out more resources on 'Procurement and Supplier Engagement' on the Sustainability Exchange.