Downloads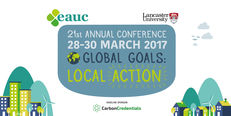 This workshop presentation is from the "Global Goals: Local Action" EAUC Annual Conference 2017, presented by Professor Keith Clarke, Visiting Professor in Sustainability - Royal Academy of Engineering. David Farrow, Executive Director of Marketing & Strategy Communications - Aston University. Professor Trevor Oliver, Deputy Evecutive Dean - The School of Engineering and Applied Science and fell under the Work and Employability stream. To find more presentations and resources from this Conference, search for EAUCConf17.
Climate change, sustainability and decarbonisation will be key factors in every business decision a student will make during their careers, so Aston University is taking steps to ensure its students are ahead of the game.
The Problem: How to help embed sustainability into all courses and give students the necessary climate change thinking and problem-solving skills for whatever programme they're studying, and to be an investment in students that will prepare them for the brave new career opportunities that will come in a low-carbon world.
This session highlighted how this event was created, organised and implemented and also the lessons learnt after the last two events.