Downloads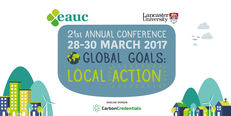 This workshop presentation is from the "Global Goals: Local Action" EAUC Annual Conference 2017, presented by Sophie Hemery - Solar SOAS. Hannah Short - Solar SOAS. Micheil Page, Solar SOAS Member - Solar SOAS and fell under the Planet Climate stream. To find more presentations and resources from this Conference, search for EAUCConf17.
Institutions continue to commit to divesting their investments from fossil fuels. Now is the time to make good use of that money to support sustainable alternatives.
How? Learn from Solar SOAS' pioneering student-led community renewables scheme, and explore with us how divestment can fund energy efficiency and renewables on campus. It's time for the transition to fossil-free, self-sustaining campuses!