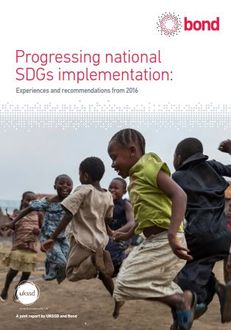 Progressing national SDGs implementation: experiences and recommendations from 2016 - Bond
Since the signing of the Sustainable Development Goals (SDGs) in 2015, countries have been getting to grips with this new, deeply ambitious agenda. The High Level Political Forum (HLPF) in July this year was the first chance to see what progress countries are making. UKSSD, Bond, Save the Children UK and WWF-UK commissioned a report that analysed various contributions to the HLPF. The report does the following:
Provides an overview of 16 of the national reviews presented at the HLPF and equivalent civil society reports.
Shares examples of best practice.
Makes recommendations for country and civil society reporting.
Makes recommendations for strengthening the Secretary-General's reporting guidelines.
You can now download the full report or the summary.
Bond are also doing a series of blog posts around the report, the first of which is focused on country reporting listing 10 things countries should do in their national reviews.