Home
»
All Resources
» Wiltshire College Case Study - Improving Our Environmental Management
Downloads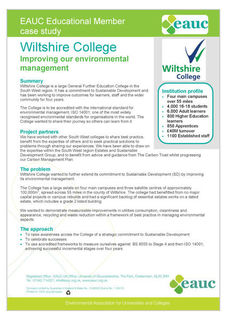 EAUC Member, Wiltshire College, is a large General Further Education College in the South West region. It has a commitment to Sustainable Development and has been working to improve outcomes for learners, staff and the wider community for four years.
The College is to be accredited with the international standard for environmental management, ISO 14001; one of the most widely recognised environmental standards for organisations in the world.
The College wanted to share their journey so others can learn from it via this case study.