Downloads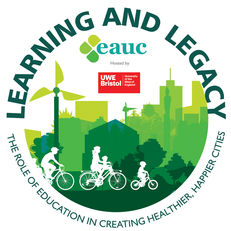 This workshop presentation is from the "Learning and Legacy: The Role of Education in Creating Healthier and Happier Cities" EAUC Annual Conference 2016, presented by Aisling Tierney, Research Assistant (ESD) - University of Bristol and Peter Rands, Director of Sustainability Development - Canterbury Christ Church University and falls under the Learning, Teaching and Research stream. To find more presentations and resources from this Conference, search for EAUCConf16.
The FE and HE sectors face many funding challenges and this can impact how ESD is implemented and developed institutionally. This session overviewed success stories from the University of Bristol and Canterbury Christ Church University, showing how different institutional structures can adapt to provide support for ESD curriculum innovation.
Delegates reviewed how ESD is integrated into the curriculum, how small grants, particularly aimed at early career staff, can serve as a low-cost catalyst to large-scale change. The case studies were analysed to see how similar approaches can be adapted to suit FE and HE structures elsewhere.