Downloads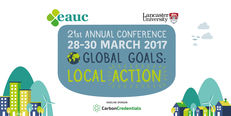 This workshop presentation is from the "Global Goals: Local Action" EAUC Annual Conference 2017, presented by Jayne Cornelius, Sustainable Travel Officer - Swansea University. Liz Harris, Environmental Projects Assistant - University of Winchester and fell under the People, Place and Justice stream. To find more presentations and resources from this Conference, search for EAUCConf17.
This workshop was recommended for Travel Planners or those who have the ownership of their University Travel Plan as part of their remit.
Swansea Dual Campus experience took delegates through the 'Incredible journey' from writing a brand new dual campus Sustainable Travel Plan to becoming a best practice multiple Award winner.
Winchester University's well established Travel Plan focuses on initiatives to get people out of cars and reduce the need for parking spaces. The focus is on sustainable alternatives such as bike, car sharing and bus.