Circular Economy – from Compliance to Champion
Downloads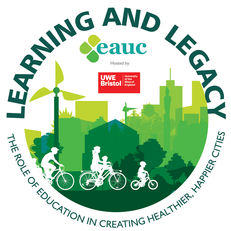 This workshop presentation is from the "Learning and Legacy: The Role of Education in Creating Healthier and Happier Cities" EAUC Annual Conference 2016, presented by Steve Lee, CEO - Chartered Institute of Waste Management and Dr Mariale Moreno, Research Fellow in Sustainable Production - Cranfield University and falls under the Estates and Operations Conference stream. To find more presentations and resources from this Conference, search for EAUCConf16.
We face a future of resource constraint – primary resources are finite but demand and consumption are increasing. Achieving improved resource efficiency; developing a "circular materials economy"; and living within our environmental means is therefore changing from concept to reality. Governments are increasingly prepared to take a lead and the European Union describes the Circular Economy as the "Next frontier".
This workshop included an explanation of the changes afoot in the circular economy at a European, national and local level, and where universities and colleges can look for support in managing those changes. It included an exemplar case-study from Cranfield University and an extended discussion session to allow delegates to apply circular economy thinking – and practice – in their own organisations.