Downloads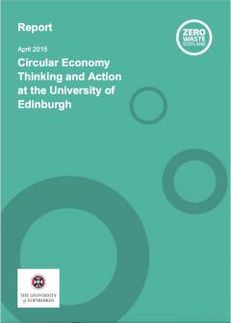 Researchers and practitioners at the University of Edinburgh have been working together to identify how principles of the Circular Economy can be embedded in Research, Learning & Teaching and Operations at the University and have published a report on their findings.
The Department for Social Responsibility and Sustainability (SRS), with support from Zero Waste Scotland, facilitated a project between January and April 2015 with operational and academic colleagues. The Business School's Sustainable Business Initiative (SBI) was recruited to carry out the main piece of research, and smaller teams from the Schools of Geosciences and Chemistry also looked at practices within their own areas.
As well as a literature and document review, interviews were carried out with over 35 staff members. Initial research findings were presented to a group of over 20 staff from the across the University (Schools, ERI, operations) on 1st April 2015, who offered feedback and discussed potential next steps.
The report details the findings of this project, presenting a review of the concept of the Circular Economy, approaches taken at other universities, the results from the stakeholder engagement at the University of Edinburgh, and a summary of the current initiatives at the University.