Climate Psychology and Engagement - Community Engagement TSN - Resources
Downloads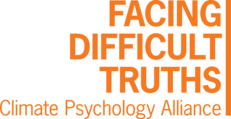 The Community Engagement TSN met with partners from the Climate Psychology Alliance (CPA) on 12th May 2017 to discuss how to take forward ideas developed around climate psychology at the previous TSN meeting, where we discussed why people are apathetic towards climate change, and what professionals in the tertiary education sector can do about it in order to increase engagement.
Dr Julian Manley from University of Central Lancashire and the Climate Psychology Alliance provided a presentation on a psycho-social understanding of our ability to face the challenges of climate change; Dr Rachel Howell from University of Edinburgh presented some personal connections to research and teaching; Dr Catherine Happer from University of Glasgow discussed the media and its role in persuading publics in the post-truth era; and all delegates were given opportunities to discuss and share their perspectives on the psycho-social approach and how it could help their work and wider climate change engagement.
Find full minutes to download from this page.
Following the TSN, the group launched the Scottish branch of the Climate Psychology Alliance. These minutes can also be downloaded from this page. If you're interested in finding out more and joining CPA Scotland please contact John Thorne.