Downloads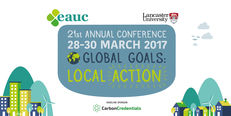 This workshop presentation is from the "Global Goals: Local Action" EAUC Annual Conference 2017, presented by Simon Kenton, Community Engagement Manager - Resource Futures. Michael Esvelt, Operations Director - Environmental Information Exchange. Jo Hamilton, Researcher - University of Oxford and fell under the Planet - Climate stream. To find more presentations and resources from this Conference, search for EAUCConf17.
University communities can have a huge impact on the localised drivers of climate change, but how can they take proactive steps to mitigate them?
Whether it be through action research, resource efficiency or student-led action, this workshop will help staff, academics and students alike create positive change, both on and off campus. This session drew on the latest innovations from University of Oxford, Brookes University resource efficiency specialists Environmental Information Exchange and Europe's largest localised grassroots climate action network, the Community Action Groups (CAG) Project.