Downloads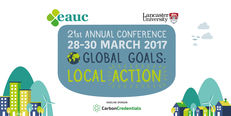 This workshop presentation is from the "Global Goals: Local Action" EAUC Annual Conference 2017, presented by Chris Willmore, Professor of Sustainability and Law - University of Bristol. James Longhurst, Assistant Vice Chancellor - University of the West of England. Amy Walsh, Sustainability Manager - Bristol Students' Union and fell under the People, Place and Justice stream. To find more presentations and resources from this Conference, search for EAUCConf17.
This session asked delegates to explore how their institution could increase its student engagement in sustainability in their area. It explored the development of whole-institution approaches to engaging students in the city/community as a vehicle for student skills development and city transformation.
​Starting from the experience of the University of Bristol, UWE and their student unions, showcased in the plenary session at last year's EAUC conference this session looked at the lessons from that in terms of the impact upon student skills, employability and sense of belonging. It explored the opportunities, obstacles and impacts.
The session used the Bristol experience as a starting point for exploring opportunities in other institutions and cities.