Downloads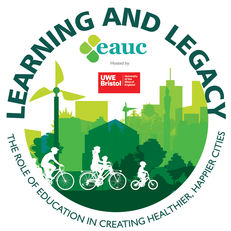 This workshop presentation is from the "Learning and Legacy: The Role of Education in Creating Healthier and Happier Cities" EAUC Annual Conference 2016, presented by Catalina Silva-Plata, Environmental Coordinator - University of Strathclyde and Emily Dunning, Coordinator, Living Laboratory for Sustainability - University of Cambridge and falls under the Learning, Teaching and Research stream. To find more presentations and resources from this Conference, search for EAUCConf16.
The University of Strathclyde and University of Cambridge 'Living Lab for Sustainability' programmes incentivise students to undertake campus-based sustainability projects integrated with course curriculum. The programmes aim to integrate concurrent research, student ideas and staff initiatives within a space of co-creation, co-operation and experimentation with the aim of enhancing sustainability. To date, more than 30 local and international students have delivered projects in partnership with the Sustainability Team at the University of Strathclyde covering a wide range of social, environmental, technical and commercial practice areas.
This workshop session provided guidance for delegates on: engaging academic staff, recruiting high calibre students, curriculum integration, project delivery and effective communication.