A Guide for Members of Governing Bodies – Rathbones Case Study - The fossil fuel divestment debate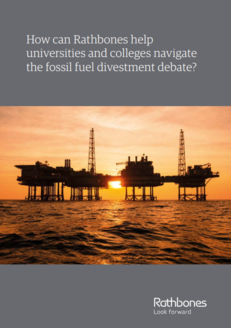 Challenge
A decision to divest from fossil fuels is not binary. Rathbones considers "Your response does not mean you have to choose between achieving your financial objectives and responding to campaigns — you can do both." A phased and escalating process of engagement - from informal dialogue with target companies to meetings with management, direct voting activity and the tabling of resolutions at company AGMs, to full divestment - can have the greatest impact.
Value
A divestment strategy considers scope, scale and span. Should we focus on extraction or ultimate use of resources? On current production output or potential reserves? On immediate divestment or a more gradual transition?
Benefit
A university partner related its divestment decision to its core value of promoting a more sustainable future and the social and environmental research it undertakes. The student body, board members and other stakeholders supported moving towards divestment, initially placing part of its endowment in a sustainability fund. Latterly, they applied the approach to the full investment portfolio, ending investment in companies deriving more than 5% of turnover from extraction of thermal coal or oil and gas from tar sands and they have also set a date for full fossil fuel divestment. The financial wellbeing of this values-based policy did not detract from long-term financial goals and strategic plans.
Download our paper: 'How can Rathbones help universities and colleges navigate the fossil fuel divestment debate?'