A Guide for Members of Governing Bodies – Sustainability is Key to Institutional Success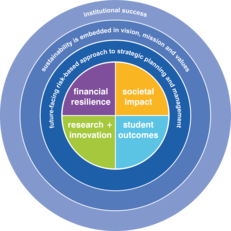 Sustainability is key to institutional success over the long-term.
Universities face unprecedented levels of risk and uncertainty, as well as a myriad of strategic opportunities.
They must respond to a complex mix of global challenges like climate change, as well as plan for geo-political events, such as 'Brexit'. They must work hard to attract and retain talented students and staff and do so amid rising costs, tighter regulation and ever closer scrutiny from stakeholders.
Sustainability is a key strategic agenda that enables institutions to thrive in a turbulent environment. It embodies the systems-thinking required to understand and resolve complex problems. It balances the financial health of institutions with social and environmental impacts, and it seeks to future-proof decision-making by taking a long-term view.
Sustainability increases the financial resilience of institutions. Among other things, it makes a significant contribution to cost saving and efficiency agendas, it helps universities manage risks (such as those relating to their supply chains and global partnerships), and it helps ensure that universities grow sustainably and remain competitive.
Sustainability is in fact intimately connected with the primary elements of effective governance in higher education. It focuses on the longterm sustainability of institutions, helps anticipate legislative and regulatory changes, and provides for greater resilience, promoting access, equality and diversity, and encouraging greater transparency and public accountability.
Sustainable institutions are, furthermore, uniquely positioned to provide thought leadership for the wider public, private and plural sectors as they use their scale and influence to help address social, economic and environmental challenges. They are also responsible for educating the leaders of tomorrow across all sectors and for the jobs of tomorrow.
Universities that embed sustainability in their vision, mission and values - and thereby adopt a future-facing, risk-based approach to strategic planning and management - can realise a host of business benefits across four key pillars of institutional success: Financial Resilience; Student Outcomes; Research and Innovation, and Societal Impact. These benefits are discussed in the following four sections of this Guide.