Downloads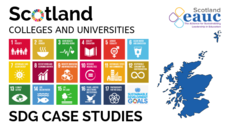 EAUC-Scotland collected case studies from across Scottish universities and colleges that align with the 17 Sustainable Development Goals (SDGs). The case studies provide a snapshot of the some of the ways that Scotland's Further and Higher Education sector are contributing towards the Global Goals.
Our hope is that you will be inspired by these examples to identify opportunities where you can help make strides to achieve the SDGs by embarking or partnering with universities and colleges on on social, economic and environmental initiatives.
See the full collection of Scotland Colleges and Universities SDG Case Studies
You can also view the individual case studies.