Home
»
All Resources
» SDG Accord Report 2019: Progress towards the Global Goals in the HE and FE Sector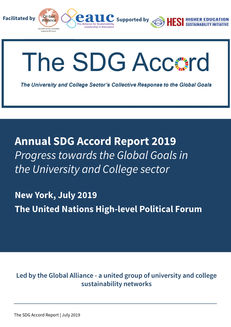 A global alliance of the world's universities, colleges and sustainability networks has launched the second annual SDG report; 'Progress towards the Global Goals in the University and College sector'.
Presented at the UN High Level Political Forum in New York, the research shows increasing prioritisation of Climate Action (SDG 13) in universities and colleges and recommends their leaders commit to Net Zero Carbon Emissions or risk falling behind institutions that recognise the seriousness of this situation.
This research was undertaken by the EAUC and you can download it at the side of this page and sign up to the SDG Accord here.