Home
»
All Resources
» SDG Accord Report 2022: Progress towards the Global Goals in the University and College sector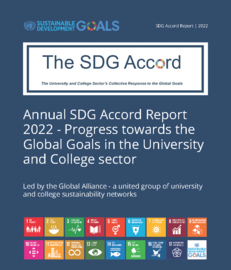 A global alliance of the world's universities, colleges and sustainability networks has launched the 2022 SDG Accord Report: 'Progress towards the Global Goals in the University and Colleges Sector'.
Presented at the UN High Level Political Forum, the research shows increase in newly reporting institutions worldwide. As the UN SDGs become better integrated into the wider sector, we have updated the SDG Accord reporting requirements to include two separate sections, hence signatories answered 18 questions. They also submitted detailed case studies of good practice and outlined specific barriers to their SDG integration.
Those starting their SDG integration journeys are doing so rapidly, shown by the exciting breadth of case studies reported this year. We are extremely grateful to the SDG Accord signatories for taking the time to share these institutional examples and we encourage all to continue promoting their efforts.