Downloads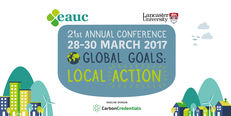 This workshop presentation is from the "Global Goals: Local Action" EAUC Annual Conference 2017, Ambreen Jahangir, Safety Health & Environment Officer - Swansea University. Graham Simmonds, Managing Director - Green Rewards. Heidi Smith, Head of Sustainability & Staff Wellbeing - Swansea University. Teifion Maddocks, Safety Health & Environment Officer - Swansea University and fell under the Health & Wellbeing stream. To find more presentations and resources from this Conference, search for EAUCConf17.
SWell is a Sustainability and Wellbeing engagement programme that rewards staff and students at Swansea University for taking positive steps. Staff participate in various activities to earn 'Green Points' which are then added to their team's total points. The programme encourages positive behaviour change through rewards, competitions (leader boards), feedback, gamification and mobile app. Students sign up and become part of our community for sustainable change and make a multitude of contributions.
The SWell students have helped the University improve its performance in areas such as waste and recycling, energy efficiency, sustainable and active commuting and personal wellbeing.
This innovative Sustainability and Wellbeing engagement tool brings together elements of social norming, rewards, competition and self-accountability, promoting positive behaviour change.
The workshop took delegates through a demonstration of the tool (SWell), and its positive behavioural and environmental impacts. It also demonstrated ways of highlighting individual financial, environmental and health benefits to instigate behaviour change.
The workshop also took delegates through the student engagement scheme and how it empowers, engages, and recognises the contribution of students through:
Swansea Sustainability Award
Sustainability Engagement
Our Campus our Lab
The project's model can be adapted by any business or educational institution to achieve sustainability and wellbeing targets through an interactive engagement tool.