Downloads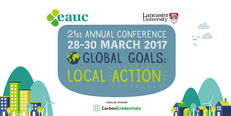 This workshop presentation is from the "Global Goals: Local Action" EAUC Annual Conference 2017, presented by Andrew Bryers, Energy and Sustainability Manager - Aston University. David Stutchfield, Sustainability Manager - University of St Andrews. Chiko Wade, Business Development Manager - ENGIE (Urban Energy) and fell under the Planet Climate stream. To find more presentations and resources from this Conference, search for EAUCConf17.
Look at large scale energy centres that feed campus and wider schemes.
Firstly, The Birmingham District Energy Scheme is playing a pivotal role in Birmingham City Council's climate change strategy. It incorporates three district energy networks, all built and operated by ENGIE through the Birmingham District Energy Company (BDEC). The first 25-year energy supply agreement was signed in 2006.
The overall network comprises three schemes, including Aston University. BDEC's three core schemes has rapidly expanded to include several third-party private developments.
Secondly, The University of St Andrews has stated their ambition to become the UK's first carbon neutral university for energy use in buildings. The cornerstone of their plans is a £25million sustainable energy project which saw the creation of a 6.5MW biomass energy centre and a 23km district heating network, which transports the heated hot water to the University's North Haugh Campus.