The Rocky Road to Carbon Reduction - Lancaster's Carbon Management Plan
Downloads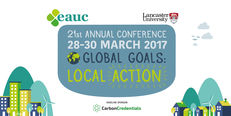 This workshop presentation is from the "Global Goals: Local Action" EAUC Annual Conference 2017, presented by Jonathan Mills, Carbon, Environment & Sustainability Manager, Lancaster University and Jonathan Bastiaans, Energy Manager, Lancaster University. To find more presentations and resources from this Conference, search for EAUCConf17.
Lancaster University has reduced its absolute carbon emissions by over 20% since 2005 despite a GIA increase of over 30,000M3 during this period. With challenging carbon reduction targets of 43% by 2020 and 83% by 2050 Lancaster has implemented a wide range of projects to reduce its carbon emissions as part of its Carbon Management Plan with varying degrees of success and effort!
This session explored the successes and failures and problems encountered when implementing CMP projects using potted case studies and examples and aimed to disseminate the 'lessons learnt' by Lancaster to EAUC delegates.