Downloads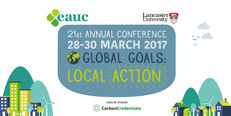 This workshop presentation is from the "Global Goals: Local Action" EAUC Annual Conference 2017, presented by Professor Mark Dooris, Professor in Health & Sustainability - University of Central Lancashire. Professor Judy Orme, Professor of Public Health & Sustainability - University of the West of England. Lizzie Johnson, Health & Wellbeing Co-ordinator - University of the West of England. Claire Engl, Environment & Sustainability Manager, University of Central Lancashire and fell under the Health and Wellbeing stream. To find more presentations and resources from this Conference, search for EAUCConf17.
This session profiled the Okanagan International Charter for Health Promoting Universities and Colleges and introduce the UK Healthy Universities Network. It explored the convergence of sustainable development and health agendas and discussed opportunities to join up work within further and higher education to maximise impacts, co-benefits and 'win-wins'.
Drawing on insights from policy and practice at two UK universities – with a particular focus on campus/building design and travel – it enabled participants to identify opportunities in their institutions and find entry-points to integrate work programmes and enhance the wellbeing of people, place and planet.