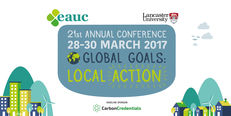 This presentation is from the "Global Goals: Local Action" EAUC Annual Conference 2017, presented by Joe Bourne, Students Engagement Officer - Lancaster University Students' Union. Professor Mary Smyth, Bowland College Principal - Lancaster University. To find more presentations and resources from this Conference, search for EAUCConf17.
Lancaster University runs an intense competition between its nine colleges in which student groups are challenged to present an idea that would simply 'make the university more sustainable'. Throughout the competition students are mentored by an academic and offered encouragement and support from a collaboration of Students' Union and University staff.
Previous ideas have been a diverse range of extremely practical suggestions relating to energy management and waste initiatives; challenges to the university's governance or strategy; and, new ways to incorporate sustainability into the curriculum across campus. Many of the ideas are of such a high calibre that they go on to be adopted by our teaching, student engagement and estates teams.
This session looked at the winning ideas fresh off the back of the competitions climactic final.