Biodiversity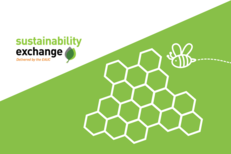 Within the context of a university or college, biodiversity can make the world of difference to the environment in which we teach, learn and work. Physical and mental health outcomes of green space and initiatives play a role in our sense of self and institutional culture and ambitions- it may also influence retention and recruitment of students and staff.
Biological diversity encompasses the variation of life on earth and in its simplest form, it is measured by the number and variety of species in an area. Globally, the rate of loss is recognisably a serious concern that requires concerted international action to prevent an irreversible pattern of ecological damage. Whilst the science may feel abstract and distant to some roles within the sector, it truly effects us all.
If you would like to learn more about managing biodiversity at your institution then why not view our Biodiversity Guide. This practical guide is supported by the United Nations Environment Programme (UNEP) and the Global Universities Partnership on Environment and Sustainability (GUPES).
To connect with like-minded EAUC Members, join the EAUC's Biodiversity Community of Practice. This group is for EAUC members only.