Ponds and other wetlands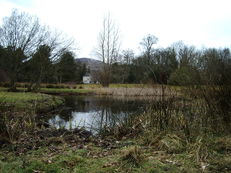 The term 'wetland' covers a wide variety of habitats from reed beds, bogs, wet grassland and woodland to marine habitats, lakes, lochs, ponds, rivers and dykes. Wetlands are among the most productive ecosystems on the earth and can support highly diverse species communities.
The loss of wetlands has been dramatic throughout the last 100 years or so. Freshwater plants and animals have become our most endangered species, nationally and internationally. The main causes of the loss are drainage for agriculture, forestry and development as well as excessive abstraction and water pollution.
By creating or managing a wetland area on your campus, you can provide a resource for wetland species such as frogs, newts and dragonflies and a valuable source of food and water for bats and birds. You will also be providing an attractive landscape and amenity feature.
The easiest way to create a wetland is by building a pond and/or a boggy area. You may also be interested in creating a Sustainable Urban Drainage System (SUDS). This can provide a wetland habitat and manage run-off or drainage from hard surfaces in a sustainable way.
Case Studies