Downloads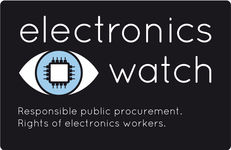 On 21st February 2019 EAUC-Scotland held a webinar to focus on Sustainable Procurement and the SDGs with Electronics Watch. This was held in partnership with EAUC-Scotland Sustainable Procurement Topic Support Network. Harpreet Kaur Paul, Electronics Watch UK Representative, discusses how Electronics Watch works to help achieve the UN Sustainable Development Goals by eradicating recurring issues in the electronics supply chain.
In particular, the session focussed on their fantastic work to alleviate issues around forced labour, work related illnesses and deaths, excessive working hours, working with dangerous materials, restrictions on freedom from association, exploitation of migrant workers.
The tangible improvements that Electronics Watch have been able to make includes working with factories to improve conditions for more than 100,000 workers. Specific examples include; ending forced labour in a factory in china, addressing debt bondage in Thailand, returning identity and work documents to workers, reinstating workers that were illegally fired for union organisation in the Philippines, improving workshift scheduling and increasing pay for temporary workers in the Czech republic ensuring guaranteed income.
The EAUC become an Advisory Group Member for the ambitious project to establish Electronics Watch in 2014 and have been supporting them since. In 2017 all Scottish institutions became consortium affiliates of Electronics Watch through APUC, the purchasing consortium for Scotland's Universities and Colleges.
The full webinar is available to watch below.
Videos