Downloads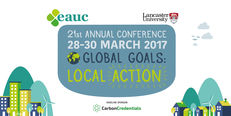 This workshop presentation is from the "Global Goals: Local Action" EAUC Annual Conference 2017, presented by Katy Boom, Director of Sustainability - University of Worcester. Alex Henderson, Research and Partnerships Associate - The WikiRate Project e.V and fell under the People, Place and Justice stream. To find more presentations and resources from this Conference, search for EAUCConf17.
Learn how the University of Worcester and the University of Michigan are working to bring their sustainability data into the public domain. Working with The WikiRate Project e.V, an EU-funded, crowd-sourced online platform promoting transparency on sustainability performance to share their data in a structured and dynamic way.
The data from both universities will be mapped across the 17 SDGs with the hope to stimulate discussion around the metrics, reporting and data itself and ultimately get a sense of what universities, on both sides of the Atlantic are doing to contribute positively to the SDGs.