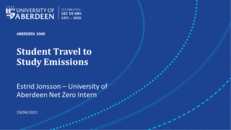 Special event: Calculating International Student Travel Emissions with Estrid Jonsson
Estrid Jonsson is a third-year student studying Civil and Environmental Engineering at the University of Aberdeen. This academic year she has been working as a Net Zero and Student Travel intern for the Sustainability Team in Estates and Facilities.
Her work has seen her develop a methodology to calculate student travel emissions produced when students travel from their home address to the University at the beginning and end of term. These Scope 3 emissions were previously missing from the University's emissions profile.
Estrid has developed a calculation methodology alongside an emissions calculation tool and accompanying workbook. These reflect the data available, desk-based research, and discussions with sector colleagues. The tool allows for flexibility with regards to emission factors, distance travelled by students, split of travel mode and trips per year taken by students.
In this session, Estrid details her research and provides a walkthrough of the calculation tool developed which, it is hoped, may be of use to others in the sector. The session also offers an opportunity to secure valuable input and feedback from sector colleagues.
The following resources have kindly been made available free of charge to the sector:
Travel calculation tool workbook.
Emissions tracking tool workbook.
How to guide for the workbooks.
Estrid's slide pack.
Estrid's research paper which details her development of the methodology and assumptions.
If you make use of these resources, please credit Estrid as being the original researcher and author of the tool.
Please find the recorded video below.
Meeting agenda:
Welcome and introductions
Presentation on calculating international student travel emissions methodology
Q + A
Roundtable discussion
Summary and close
Videos