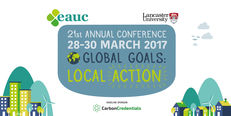 This keynote session from the 2017 EAUC Annual Conference features Malcolm Preston - Global Head of Sustainability Services at PricewaterhouseCoopers, Stephen Sterling - Professor of Sustainability Education at the Centre for Sustainable Futures, University of Plymouth and ESD Consultant to UNESCO and Wendy Purcell - EAUC Board Director/Trustee, Emeritus Professor and Visiting Scientist Harvard University.
How far do the SDG's require an additional response from HE institutions, or more fundamentally, a rethink of institutional purpose? As colleges and universities respond to various disruptive forces, such as technology, connectivity and globalisation, are we fully embracing our responsibility to deliver graduates able to operate as global citizens?

In helping launch leaders of tomorrow, educational establishments need to be connected to society through community and business networks in order to bring the future in. Do the UN Sustainable Development Goals (SDGs) offer us a shared framework and language to work with our wider stakeholders? Can we influence those around us, given we are locally rooted but globally connected? Are the SDG's a major opportunity for forwarding thinking education establishments to get on the front foot on this agenda for real competitive advantage?