Green Gown Awards – 2015 – Leadership Award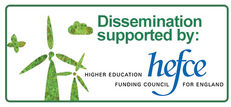 Leadership Award
This Award is exclusive to senior strategic leadership, at executive or governance level, at a tertiary education institution.

This Award will recognise individuals' at the most senior level in institutions and those operating alongside them in senior leadership team positions including institutional governance. Recognition will be awarded for a combination of institution-wide impact and powerful external engagement.

This Award seeks to identify and recognise transforming leaders who are shaping the future and making the principles and values of sustainability central to their organisation at the highest levels. Economic, social and environmental sustainability should feature appropriately in all core activities and go beyond procedural, compliant and standard practice. Judges will be looking for evidence of a clear high-level strategic approach – firstly how stakeholders at all levels are engaged in powerful strategic conversations, secondly how a truly integrated plan is constructed and communicated and thirdly the leadership of change and innovation to turn ideas into action. This category does not include those who are leading on subsidiary strategies which sit beneath the institution's over-arching strategic plan.

Individuals apply themselves but should be formally nominated by a manager or peer (within or outside the sector). Individuals that have not won previously can reapply after 2 years.