Green Gown Awards – 2020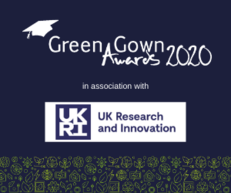 Now in their 16th year, the Green Gown Awards recognise the exceptional sustainability initiatives being undertaken by universities and colleges across the UK and Ireland. With sustainability moving up the agenda, the Awards have become established as the most prestigious recognition of best practice within the tertiary education sector.
Having been a leading participant in the United Nations negotiations to develop 17 Global Goals for Sustainable Development, the UK and Ireland must fulfil its commitment to deliver the Goals. For this to happen, it is clear from the hundreds of applicants to the Green Gown Awards that the Government must invest more in the solutions being developed in our Higher and Further Education institutes. They are leading the way as agents of change within our communities at home and abroad.
Between the Finalists, the projects touch on every department and permeate across the whole curriculum. They are conducted by students, staff, academics, external stakeholders and can be found across the UK and Ireland.
Here they share their inspirational examples of sustainability best practice, together with some words of advice and encouragement on lessons learnt along the way when implementing their projects. We hope many will be inspired and motivated by these sustainability projects.