Green Gown Awards – 2020 – Reporting with Influence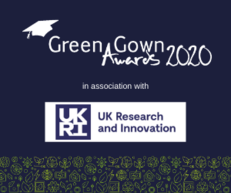 (Previously Total Reporting category)
This Award aims to assess how sustainability is reported and how reports are used to impact and influence within the institution. Reports must be publicly available information provided by institutions. The quality, data or presentation of reports will not be judged. Applications should provide:
The following evidence of the impacts of the report will be considered:
Consideration of sustainability risks and opportunities and how this factors into institutional decision making.
Evidence of clear linkages with Governors and senior management.
Evidence of engaging with internal and external stakeholders, and how this has impacted on the organisation's strategy. Specifically looking at who has been involved in the creation of the report.
Evidence of internal or external assurance over data.
Evidence of how the report fits with core business, institution wide KPIs and targets.
Evidence of how the report is integrated within broader business reporting.
Applicants are to submit their latest sustainability report or sustainability section of their annual report or full integrated annual reports via appropriate web links. Supporting narrative to illustrate the impact of the report is required.
The Reporting with Influence category can be applied for every year as long as the report submitted is for a different year/period than has been previously submitted.