Designing and Planting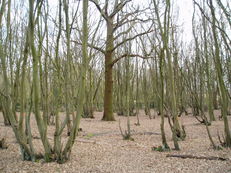 Make the wood as large as possible. The general rule, that biodiversity increases with area, is particularly important in woodland. A roughly circular shape is thought to be best.
Think about how you can increase 'edge' habitat. This is preferred by many species of birds and butterflies. You could create a small glade, a path or perhaps a sinuous boundary.
Create a multi-layered wood with a full range of habitats and species.
Choose a range of native tree species. These should suit your soil and the geographic location. Look at the species that occur in undisturbed woodlands nearby.
Plant shrub and field layer species as well as trees.
Add dead wood habitats and species. If you can, get surplus deadwood from other parts of the campus (e.g. branches felled for safety reasons). Scatter it on the floor of your new wood. This will introduce an important habitat that would otherwise take time to develop.
Add roosting and breeding boxes. This will help compensate for the lack of the holes that would be present in older trees. See 'Buildings and Structures'.
Intervention may be necessary whilst the young trees establish to reduce competition from surrounding vegetation and restrict browsing by deer, rabbits or hares.
Case Study