Salix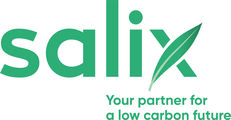 Salix Finance Ltd delivers 100% interest-free capital to the public sector to improve their energy efficiency and reduce their carbon emissions. Established in 2004, Salix is an independent, not-for-profit company, funded by the Department for Energy and Climate Change (DECC), Higher Education Funding Council for England (HEFCE), Department for Education (DfE), the Welsh Assembly Government, and the Scottish Government.
Salix enables public sector organisations across England, Scotland, Wales and Northern Ireland to take a lead in tackling climate change by increasing their energy efficiency.
To find out more about Salix Finance, visit www.salixfinance.co.uk, email info@salixfinance.co.uk, or call 0207 406 7620.