Delivering Performance Gap Solutions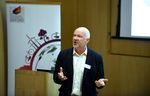 Organised by the University of Oxford and the University of Warwick, the EAUC chaired an event exploring approaches to capital project delivery.
The event looked at the opportunities and challenges presented by approaches to capital project delivery which can realise significantly improved operational energy performance:
Understand the essential metrics, skills, procedures and contractual arrangements to support delivery
Share evidence-based best practice from higher education and related sectors
Discuss risks, gaps and opportunities for client/supply chain partnerships to deliver value and quality
As owner operators of large, complex, and in many cases expanding estates, higher education institutions need solutions to the endemic performance gap in construction projects. Operational energy performance of projects remains unpredictable and frequently delivers a legacy of potentially avoidable costs to institutions.

Sessions focused on common challenges across project development, procurement and delivery. Brief presentations on key projects are available in the documents section.